A beautifully styled sofa or bed — with the perfect assortment of throw pillows — is perhaps one of the greatest comforts of a well-curated home. Putting together a pillowscape is as simple as following these guidelines and listening to your inner designer. Intrigued? Read on!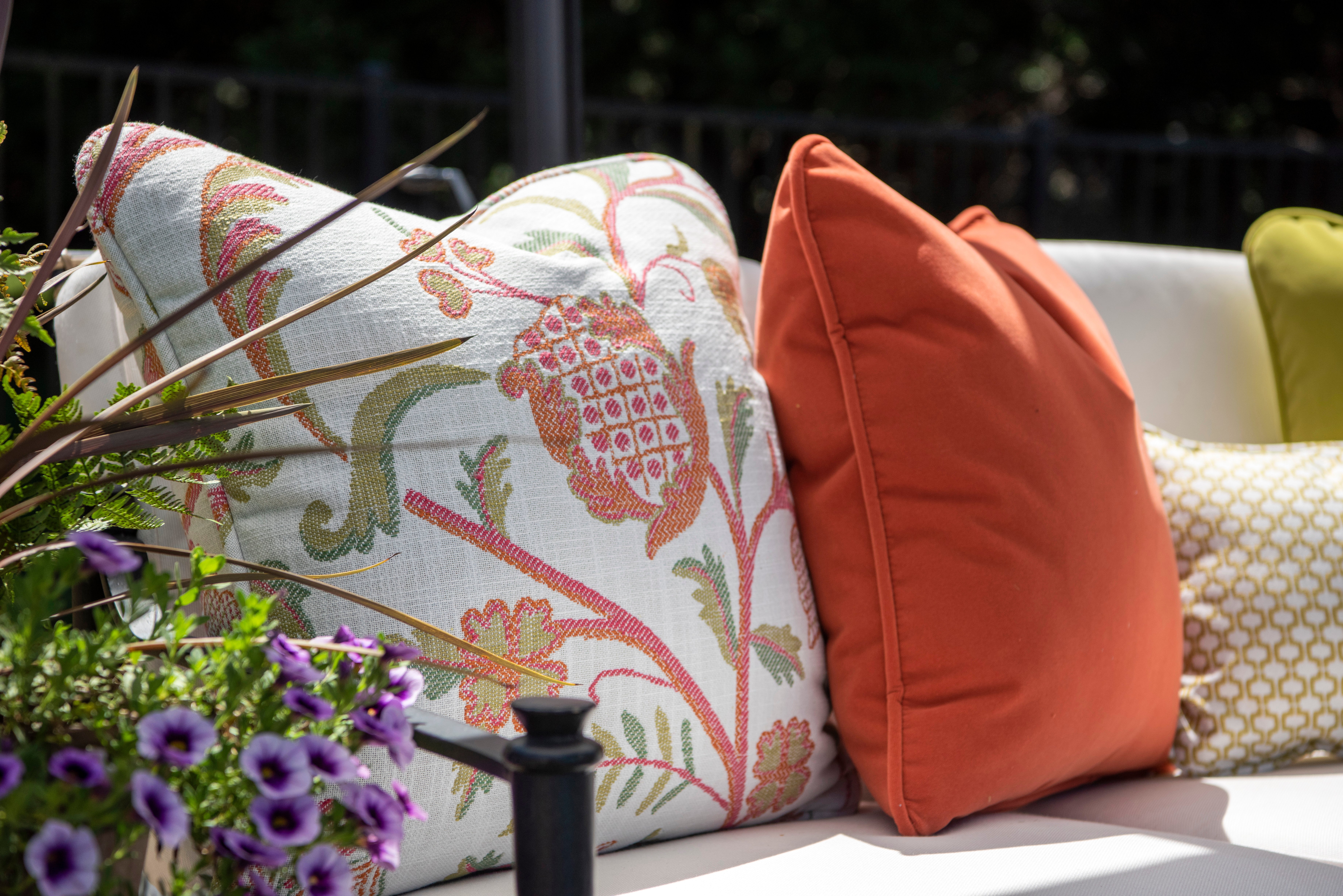 Choose a Color Palette
Throw pillows are a perfect way to complement the changing seasons, highlight impactful statement pieces like rugs and artwork, and bring color into a neutral space.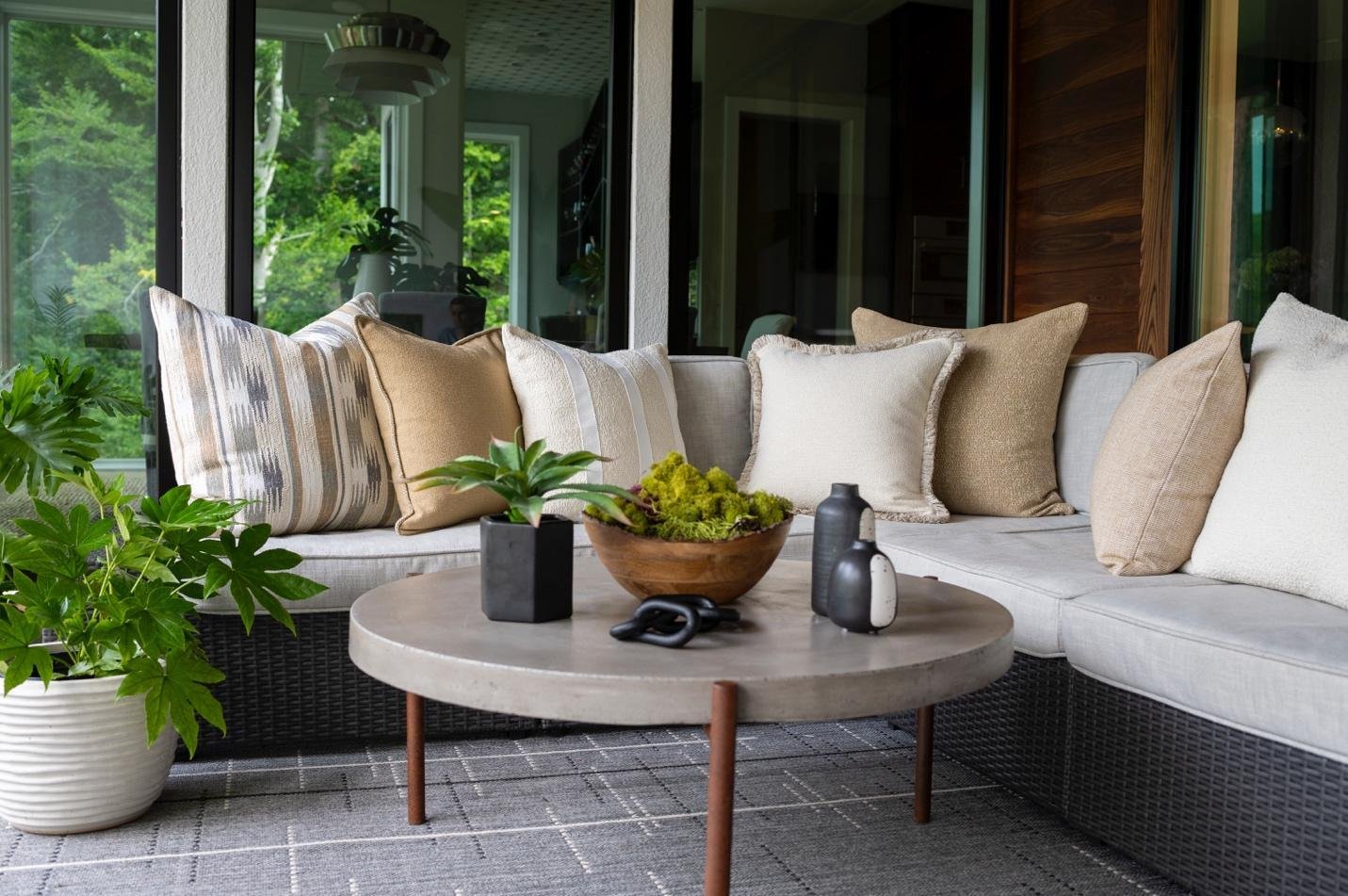 Ready to get started on your own pillowscape? Start by choosing accent colors you want to highlight in your space. Be intentional about identifying a consistent color palette of 3-5 colors to simplify the process and ensure a cohesive feel. Soft, muted hues and neutrals are timeless, but don't be afraid to choose bold trend colors to elevate your space. Pillows are a great way to refresh your home at a value. With a lower level of commitment than reupholstery, pillows are a great way to experiment with pattern and color.
Unsure of where to begin with a color scheme? Check out some of our favorites:


Dusty Blues
Pillow Picks: Kalitta Indigo, Diehl Indigo, Wellfleet Dune
Inspiration: Classic Blue & White bedroom by Sasha Adler Design
Caramel Browns & Eggshell Whites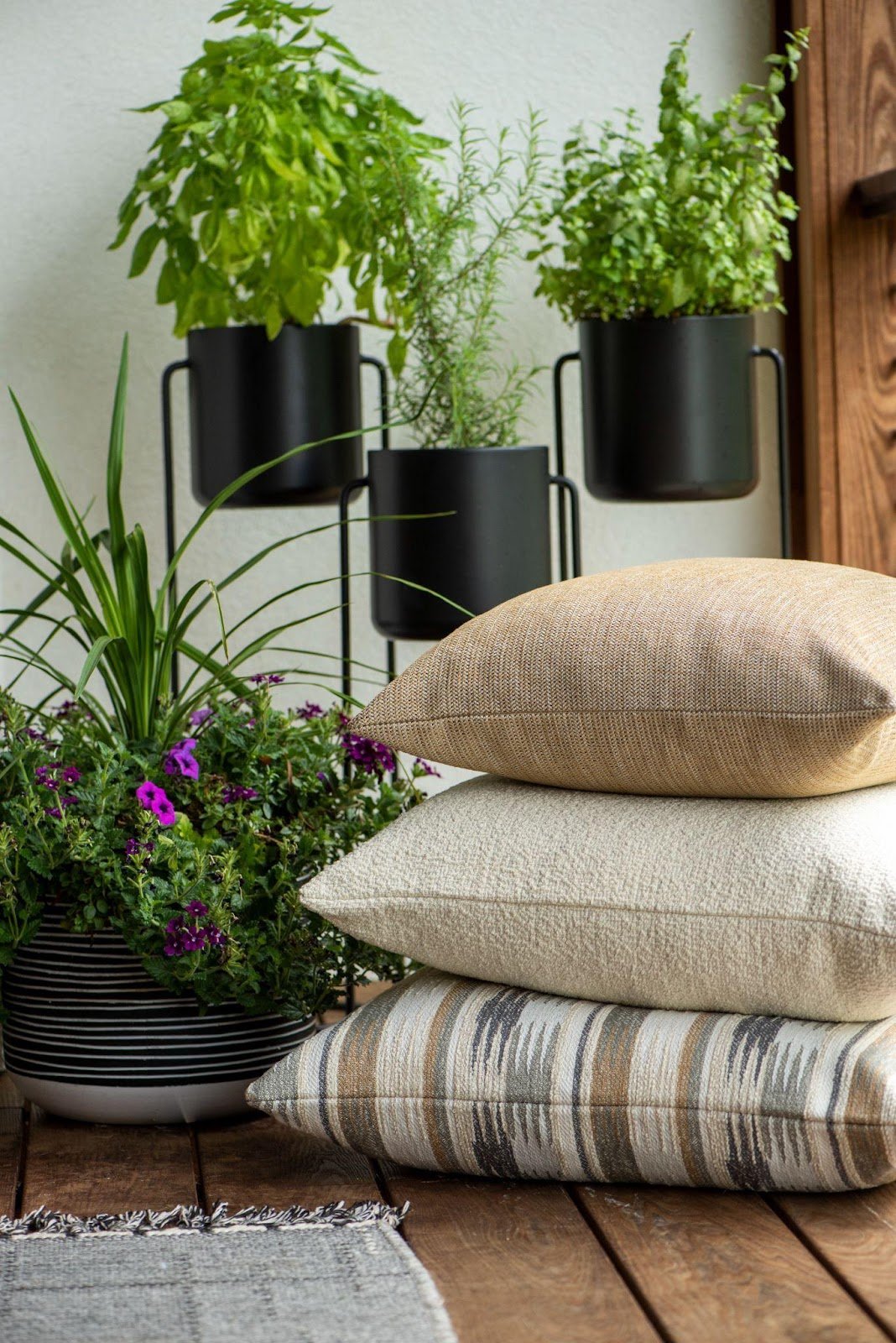 Pillow Picks: Karina Sandstone, Justify Pearl, Garwood Sisal
Warm Tobaccos & Earthy Reds
Pillow Picks: Sundance Pekoe, Diehl Fatigue, Justify Sangria
Inspiration: Upholstered Banquette by Rayman Boozer, Bed by Katch Interiors
Verdant Greens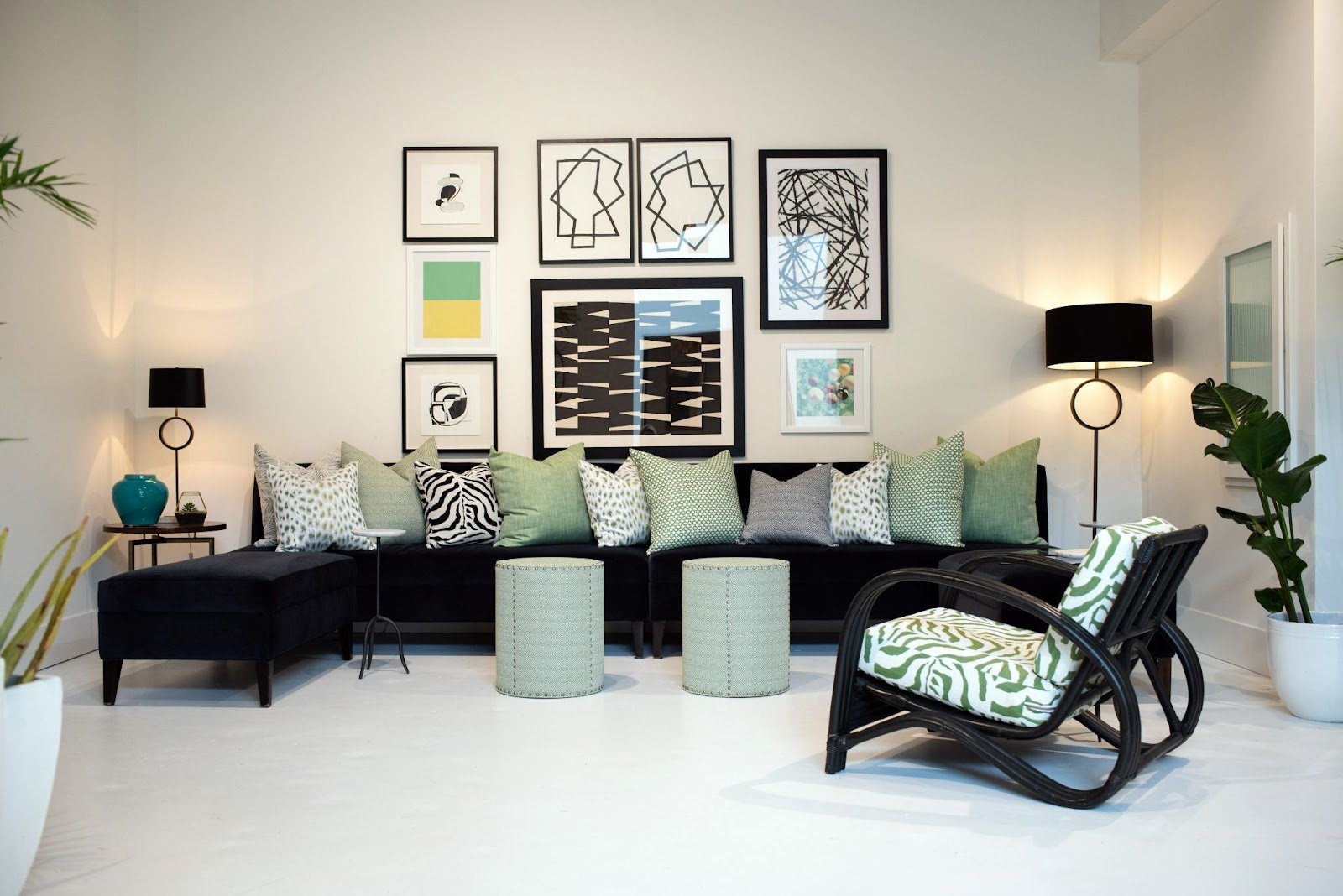 Pillow Picks: Lynx Emerald, Paonessa Endive, Diehl Capri
Grab your favorite throw pillow and study the design — what do you love about it and why? Working through these questions and defining why you're drawn to those design elements will provide you with a perfect starting point.
Get Creative with Pillow Shapes & Sizes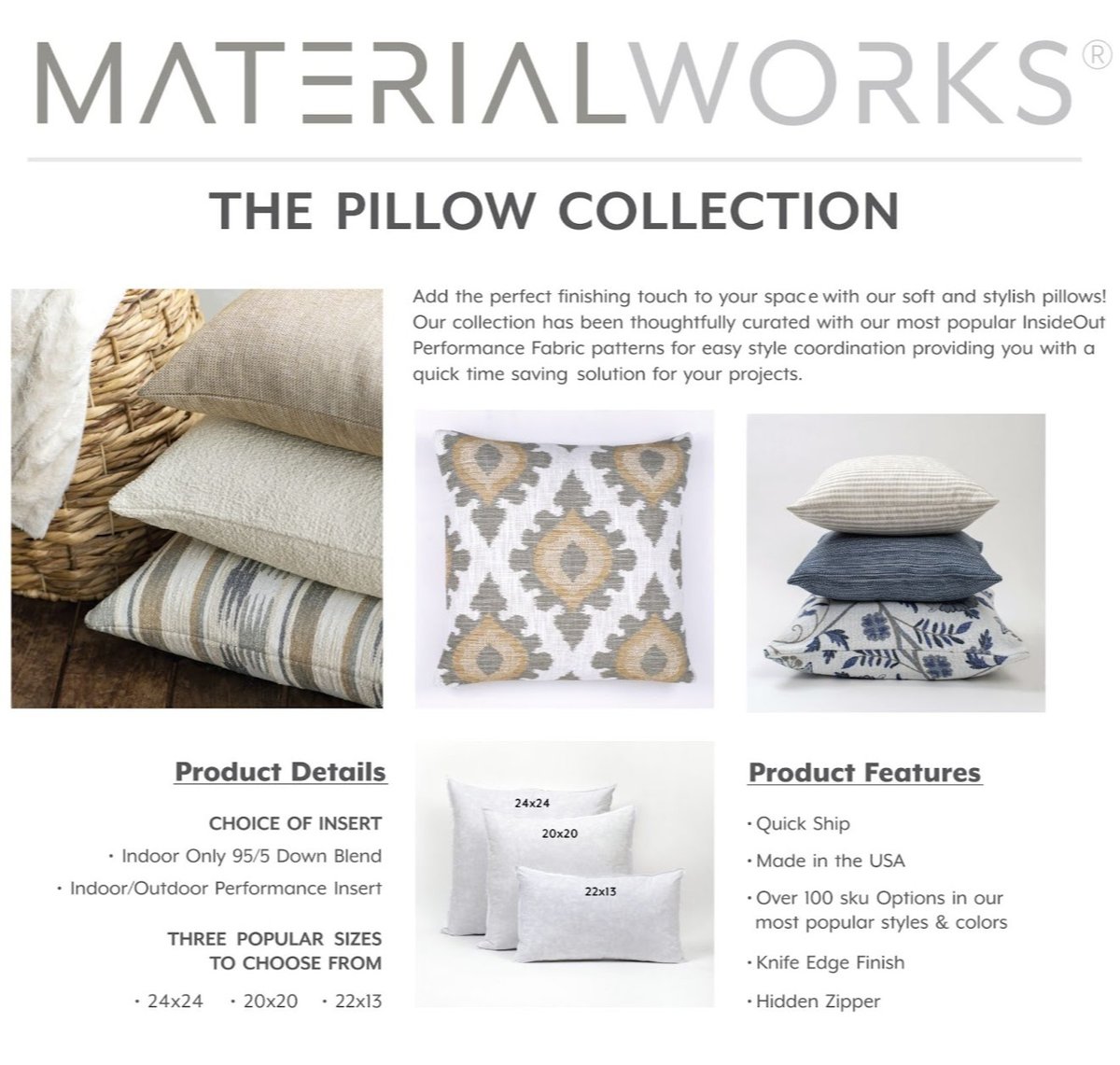 Now that you've established your color scheme, it's time to add some personality. Choosing a variety of pillow sizes and shapes is the perfect foundation for achieving your final look. Layering is the name of the game here!
While there are many ways to go about this, we love the rule of 2's: begin with larger pillows to build a foundation, then add in smaller pillows, working in 2" size increments. Don't forget to add unique pillow shapes for additional depth and interest.
MaterialWorks makes layering easy by offering all our pillows in 3 sizes that complement each other as a group - a large 24x24 square, a medium 20x20 square, and a small 22x13 kidney pillow.
Start with A Nature-Inspired Print
Pillow Picks: Kalitta Sangria, Justify Pearl
Inspiration: Bryan O'Sullivan Studio
Now the real fun begins! As we continue to build our pillowscape, it is important to incorporate dimension and strong visual interest.

We like to begin with nature-inspired pillow prints. Organic prints (think floral and botanical patterns with shape and movement) are a great way to add whimsy and color to a space.
Add Dimension with Geometric Shapes & Contrasting Scale
Pillow Picks: Karina Sandstone, Sundance Ivy, Mateo Flax
Inspiration: Rodger Higgins Interiors
In contrast to the fluid, organic lines of nature, geometric patterns create a strong visual composition. Incorporate patterns with strong angular movement to balance the varying pillow sizes, shapes, and patterns within your pillowscape. Bonus points if your chosen geometric print pulls from a similar color family as your foundational prints!
Take a step back and study the current patterns and prints in your vignette — now add a wild card pattern in a contrasting scale to the mix. This adds a curated touch.


Add Texture
Pillow Picks: Karina Desert, Garwood Sisal, Paonessa Oxide
To finish your vignette, you need texture — lots of it! We love the purposeful addition of tactile texture — boucle, leather, velvet, tweed, linen, or chenille — to complete a pillowscape.